SINCE 1970
Mainly engaged in the exquisite washing and processing of high-grade down feathers, producing high-grade down feathers, replacing human resources with machinery, providing customers with the highest quality, and having a consistent operation process, and managed according to the highest standards.
---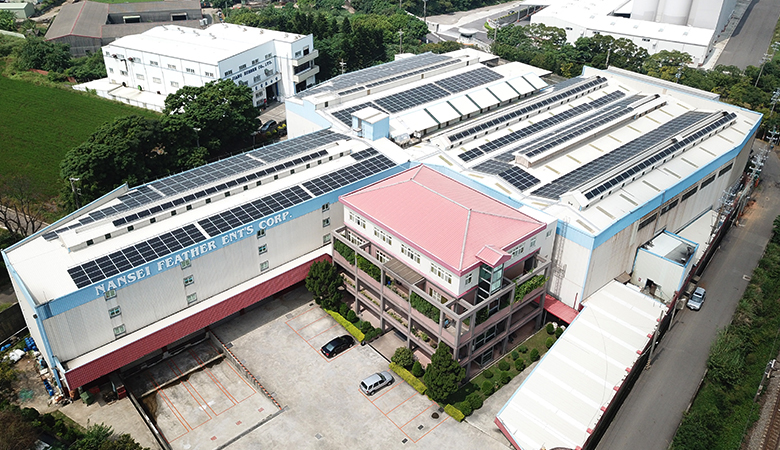 ---
Nansei history
HISTORY
---
Nansei Feather Ent. Corp. is located in Yangmei, Taoyuan. It covers an area of ​​10,000 square meters and employs 50 people. Based on the production and trade export of Japanese down and bedding, after decades of struggle, we have developed a variety of down bedding and raw materials to provide consumers with a comfortable and comfortable sleeping space. Nancheng was established in 1963. In order to expand its scale and further its operations, Nancheng established its first factory in Yangmei in 1970 and began processing raw materials in the domestic market as a stepping stone to enter the overseas market.
Produce high-grade down feathers, replace human resources with machinery, provide customers with the highest quality, have a consistent operating process, and are managed according to the highest standards. In 2002, the third plant (Fugang Plant) was established. It not only built a production line for automatic cleaning of raw feather raw materials, but also set up a treatment plant that can process 5,000 tons of sewage per day, and a fire protection system with the entire plant area, not only sprinting capacity, but also construction. A safe environment with no worries.
In 2002, Nancheng established the Tomioka Plant in Yangmei and established a fully automatic production line with organic detergent as its advanced technology. Combining the advantages of the two plants and adopting environmentally friendly washing methods to significantly reduce pollution in the down processing process is a rare processing equipment in the industry today. Therefore, it has passed strict inspections and obtained environmental protection certificates issued by the government.
Nancheng tests each product one by one in accordance with international standards. We compete for the profession. We are pragmatic and pursuing excellence. Each member of Nancheng is in the spirit of the company to safeguard the common interests of all; to protect the rights and interests of customers, to protect the interests of suppliers, to create the welfare of employees, to create a vitality and a sense of purpose. The team pursues the glory of standing in the top international market.